China's Commercial Airliner Ambitions: Dream or Nightmare?
Last month, the United States and Europe approved a halt in their 17-year trade dispute over subsidies to Boeing and Airbus. Furthermore, both sides agreed to "collaborate on addressing non-market practices of third parties that may harm their respective large civil aircraft industries." This means China.
China is trying hard to break into the commercial airliner business, a lucrative sector dominated by the Boeing-Airbus duopoly. One might think that such a business would be ripe for more competition, and yet no other segment has been so hard to break into. The global civilian aircraft sector is an elephants' graveyard of ambitious programs—the Mitsubishi SpaceJet, Sukhoi's Superjet 100, Turkey's TRJet—that have all failed miserably.
Only Embraer of Brazil has succeeded in offering Boeing and Airbus any meaningful competition, and only by carving out a niche building small regional jets.
So why does China believe that it can join the "big boys club" of commercial aircraft production? In the first place: size. China is the world's largest national air travel market and the fastest growing. China buys around 200 new passenger jets every year, about one-eighth of the world's total demand. Consequently, there is a huge domestic market to tap into and build upon.
In the second place: pride. The decision to enter into the large commercial aircraft market was made at the very top, by the State Council of China and by the Central Committee of the Chinese Communist Party (CCP). The Commercial Aircraft Corporation of China (COMAC)—the state-owned company created in 2008 to take charge of passenger jet development—is wrapped in self-described "aeronautical patriotism." COMAC views the production of large commercial aircraft as its contribution to the "China dream" in the wild blue yonder, equivalent to the nation's development of nuclear weapons and the launch of the country's first satellite.
Finally: deep pockets. The CCP is willing to throw a lot of money at commercial aircraft development, an aerospace equivalent to its land-and-sea Belt and Road Initiative.
COMAC currently has two passenger jets in the works. The first is the ARJ-21, a medium-sized regional jet seating up to 90 passengers and designed for short-haul flights of less than three hours. Launched in 2002, during the Tenth Five-Year Plan (2001–2005), the ARJ-21 was the country's first attempt in 30 years to design an indigenous commercial airliner. The plane had its first flight in late 2008, and COMAC has predicted that it would sell up to 1,000 such jets.
An even more ambitious airliner, the C919 narrow-body jet, was initiated in 2008. The C919 seats around 160 passengers, which puts it in roughly the same category as two workhorses of the skies, the Boeing 737 and the Airbus A320. COMAC predicted in 2012 that it would conduct the first flight of the C919 in 2014 and begin deliveries by 2016.
In addition, China is currently collaborating with Russia on the CR929 wide-body jet, which could carry around 300 passengers.
COMAC is already claiming that its airliners are a big success, boasting over 600 orders for the ARJ21 and more than 800 orders for the C919. There are huge holes in this story, however.
In the first place, both programs are years behind schedule. The ARJ21, for example, was two-and-a-half years late in achieving first flight. In late 2010, the plane failed its predicted load rating during static tests, suffering wing cracks. The plane has also had problems with its wiring and avionics, as well as being overweight, which limits its load weight.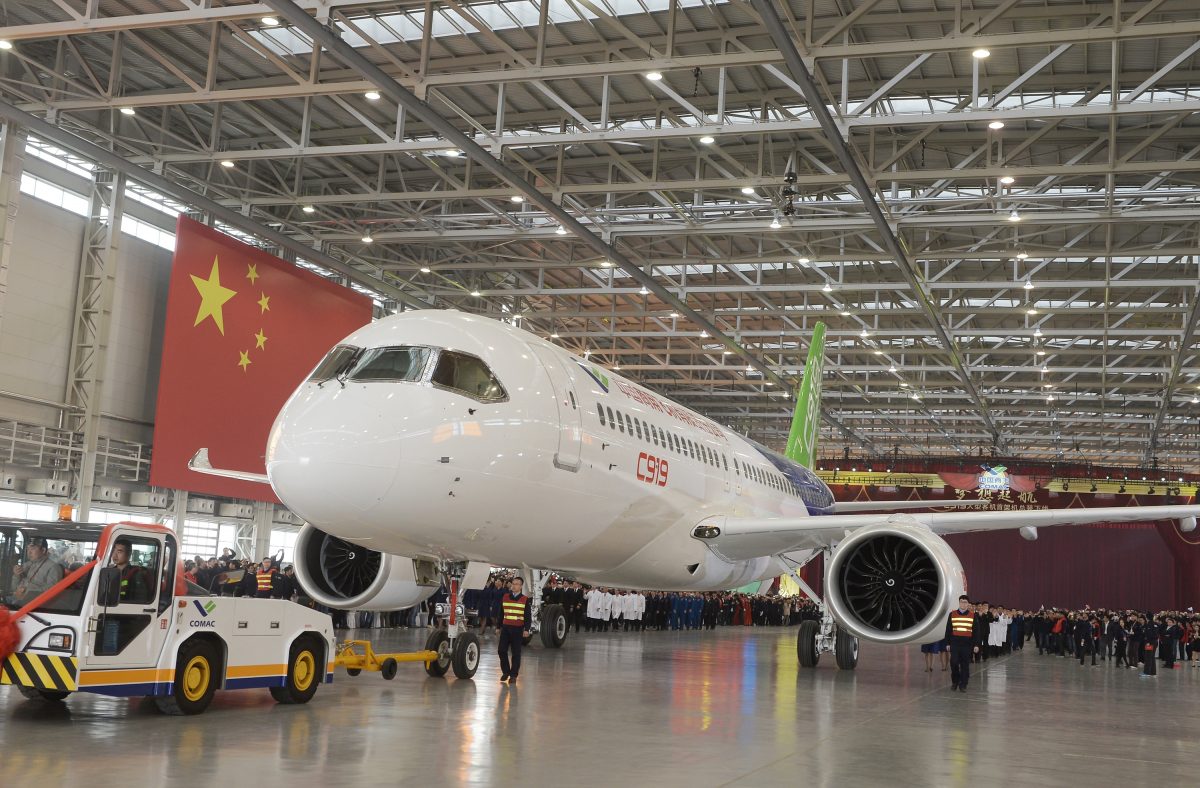 The C919 looks to be in even more trouble. The program is believed to have already cost China over $20 billion, and it has missed its milestones for first flight and first deliveries by three years. In addition, neither the ARJ21 nor the C919 has been awarded an airworthiness certification by the U.S. Federal Aviation Administration (FAA), without which it is almost impossible to sell the airliners outside of China.
In fact, so far nearly all the orders for the ARJ21 and C919 have come from Chinese airlines, making it highly likely that Beijing strong-armed these companies into buying the planes. The first airline to receive the ARJ21, for example, was Chengdu Airlines, which is partly owned by COMAC. At the same time, the ARJ21 is particularly unsuited for the Chinese air market; it carries too few passengers for most air routes between large cities, while the country's expanding network of high-speed trains is cutting into national short-haul air traffic.
Moreover, perhaps only a third of the 1,400 orders for these aircraft are "firm." The rest are either "options"—that is, non-binding purchase agreements—or else are unconfirmed orders.
Finally, calling these aircraft "Chinese" is stretching the point. In fact, both the ARJ21 and C919 relying heavily on foreign suppliers for critical components and subsystems. The nose cone for the ARJ21 is a direct copy of the defunct McDonnell-Douglas MD-82, which China built under license back in the 1990s. The aircraft's wing, meanwhile, was designed by the Antonov Design Bureau of Ukraine.
Both aircraft use Western-supplied avionics, landing gear, nacelles, flight controls, and—most important—engines. In fact, it is estimated that only 25 percent of the overall value of C919 is actually Chinese, mostly in the manufacture of the fuselage and wings, as well as final assembly. I can put together an IKEA bookcase, but that doesn't make me a carpenter.
At yet, like most things in China, just because it's a bad idea doesn't mean that Beijing isn't going to do it. As noted aerospace expert Richard Aboulafia has put it: "Every single civil aircraft produced by an authoritarian country (or by a socialist economic system) has been a miserable failure on the market." He adds, "Well-run countries with nice, smart governments don't start national aircraft programs," but "incompetent autocrats love them."
Furthermore, Aboulafia states, "Only autocratic regimes have the ability to allocate resources to national jetliners without anyone questioning why." Consequently, the CCP can waste tons of money on vanity projects like the ARJ21 and the C919.
That said, China could still end up manufacturing a lot of commercial airliners and then forcing its domestic airlines to buy them. That might be sufficient for Beijing, and it would significantly cut into Boeing and Airbus sales to China. Ultimately, however, it will be the Chinese people who will pay the price.
Richard A. Bitzinger is an independent international security analyst. He was previously a senior fellow with the Military Transformations Program at the S. Rajaratnam School of International Studies (RSIS) in Singapore, and he has held jobs in the U.S. government and at various think tanks. His research focuses on security and defense issues relating to the Asia-Pacific region, including the rise of China as a military power, and military modernization and arms proliferation in the region.
https://www.theepochtimes.com/chinas-commercial-airliner-ambitions-dream-or-nightmare_3886247.html